robust frame

300000 Vibrations Test

Long Range

55 - 120 Miles

Max Load 400lb

Tube Part Thickened 40%

250W hub motor

85Nm Brushless Motor

48V 20.8Ah Battery

Samsung / LG Battery

Up to 25 KM/H

Level 5 Adjustable
original design
STURDY FRAME & ULTRA SAFE DESIGN
Referred to the bridge design and the stability principle of the triangle, Gemini was self-designed by Fucare Team. Four main tubes are hand-deformed to retain the industrial fashion sense without destroying its unity. Multiple triangular stability points greatly enhance the frame strength and the load capacity of the whole bike, provides ultimate stiffness, structural strength and unprecedented durability for Gemini X. Front and rear dual 180mm hydraulic brakes, fast brake response and short braking distance, your riding safety is also guaranteed in unexpected situations. With LED high-brightness headlights and taillights (including brake lights) as standard, while the reflectors that are embedded in the wheels make night riding all the little bit safer.
SAMSUNG / LG 20.8Ah (998.4Wh)
SUPERIOR BATTERY
Updated to dual 48V 10.4AH Samsung/LG Lithium-ion Battery. The battery is one of the most important components of an electric bike. Fucare electric bikes are equipped with dual Samsung/LG 48V 10.4Ah batteries to ensure a long life expectancy and distinguished performance. The single range can be up to 80+ miles per charge on pedal-assist mode and around 45 miles on pure electric power mode.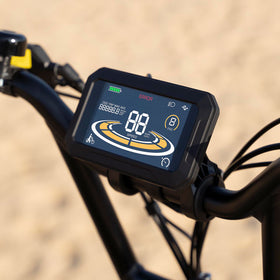 Color Display
Shimano 7 speed
250W 85Nm brushless motor
LED headlights
suspension fork
180mm hydraulic brake
sturdy rear rack
LED brake light